Fort Wayne, IN. 46815
260.486.1381
Kyrou Tailoring, locally owned and operated, established since 1971, has been serving the greater Fort Wayne and surrounding northeast Indiana,  Our mission is to "Help You Dress For Success" while observing quality workmanship and quick service all at a reasonable price.
Our Services
Custom Made Clothing
Men's & Women's Alterations
Alter & Clean Leather Apparel
Wedding Gown Cleaning & Preservation
Alter Uniforms & Sew Patches
Curtains & Drapes Alterations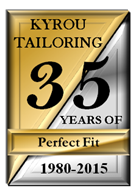 Although we specialize in custom made suits for both men & women, we are and have been a full service alteration shop.  Formal wear including wedding apparel have always been constantly worked on daily throughout the years.  We also clean and preserve wedding gowns "that can last a lifetime".  Working with leather can be as simply as repairing a small tear or remodeling the entire jacket.  Relining and cleaning of leather apparel has always been a staple at Kyrou Tailoring.  Throughout the nearly 40 (plus) years of business, our knowledge and experience has enabled us to help our community with any of their clothing needs.  There is no job to big or too small for us to handle. 
We are conveniently located near the following businesses within our complex:
Wonderful Weddings & Events
Kyrou's Music Studio