Page 2 of 3
Reason to Purchase Custom Tailored Clothing

1) Fit - To wear a custom suit is to indulge oneself in the knowledge that the cloth draping over your body was cut for your individual shape. Your suit will only fit one man/women in the world perfectly. And that man/women is you.
2) Customization - Do you want peak lapels on a 2 button single breasted jacket? Would you like a double vented jacket to ensure your backside is not exposed when you place your hands in your pockets? How about your name or a special message inscribed above an interior pocket? These are just a few of the options available.
3) Quality - Your new garment will insure satisfaction and assist you to dress for success.
The comfortable fit of your new garment will bring class, sophistication, and create an elegant graceful appearance.

Comfort Equals Confidence

Owning a custom tailored garment will not restrict your freedom of movement rather allows your body to move with greater ease and comfort.
A well-dressed person that feels comfortable in his/her garment will exude confidence in every situation.
With confidence one can focus on the tasks in business and their personal life.
Style & Fashion
With a custom made garment at Kyrou Tailoring, you are free to create your own personal style of dress and look. However, if you so choose to follow fashion, come to Kyrou Tailoring and we will assist you with the latest fashion trends. Over 30 years of first-hand experience and expertise awaits you and is willing to assist you in creating the wardrobe that reflects your style and life needs.
We at Kyrou Tailoring bring the old world of tailoring (quality, workmanship, pride)
and blend with today's ever changing, fast pace, evolving fashions.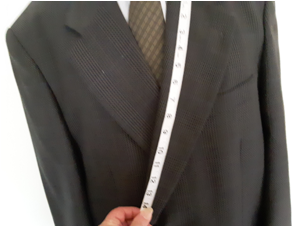 Custom made clothing is cut with "every shoulder slope, curve and head position factored in so that your clothes fit perfectly!" So, take pride in your appearance today and come make your dream come true and have a custom made clothing designed with you in mind.
An Investment

A custom made piece of clothing is an excellent value that is tailored with lasting quality. Precise measurements assure proper fit is guaranteed regardless of style or fabric to produce a flattering garment. Your initial investment in purchasing a new suit may be a little more than off the rack, however, the lifetime of your custom made garment will surpass those of others.
When purchasing readymade suits from department stores, these expensive jackets have a floating canvas, while cheaply manufactured models have a fused (glued) canvas. A fused canvas is not as soft and, if poorly constructed, damages the suppleness and durability of the jacket.

We at Kyrou Tailoring construct every garment using full canvas interfacing to maintain the integrity of the garment. Since you picked out the style, fabric, and design, you will wear your clothing with complete comfort, joy and ease.
Go ahead and indulge yourself with a custom made garment at Kyrou Tailoring.